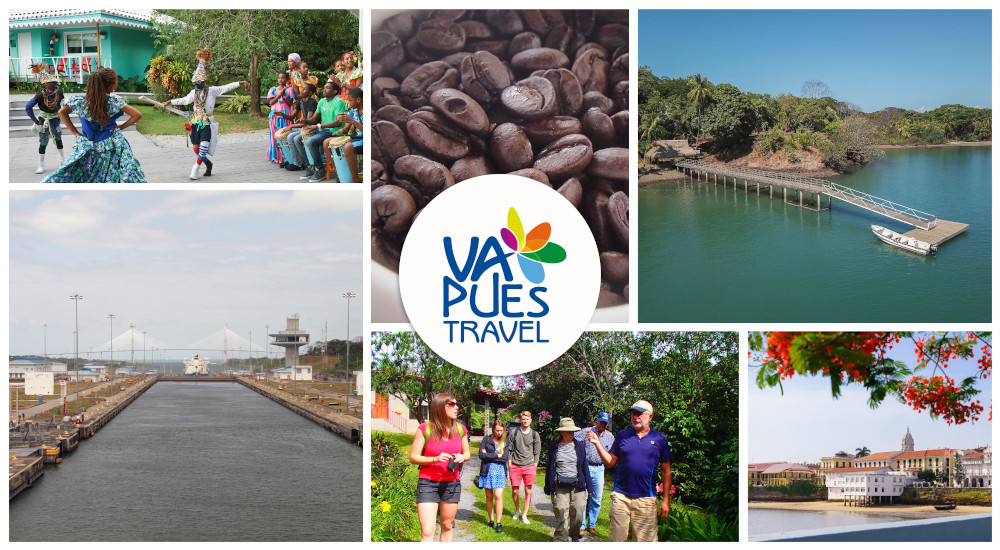 Exclusive Insight Panama
Experience the diversity of Panama over the course of 10 days, travelling in comfort and style as you visit the nation's beautiful coffee region, see the famous Panama Canal, spend some time in a laid-back Caribbean resort and relax on a remote island in the Pacific Ocean.
You'll travel privately throughout, staying in stylish hand-picked accommodation and with a selection of experiences included which will give you an insight into Panama's history, culture and incredible nature.

| Day | Destination | Hotel |
| --- | --- | --- |
| 1 | Panama City | American Trade Hotel |
| 2 | Golfo de Chiriqui | Isla Palenque |
| 3 | Golfo de Chiriqui | Isla Palenque |
| 4 | Boquete | Panamonte Inn & Spa |
| 5 | Boquete | Panamonte Inn & Spa |
| Day | Destination | Hotel |
| --- | --- | --- |
| 6 | Portobelo | El Otro Lado Private Retreat |
| 7 | Portobelo | El Otro Lado Private Retreat |
| 8 | Portobelo | El Otro Lado Private Retreat |
| 9 | Panama City | American Trade Hotel |
---
Pickup point: Panamá Tocumen International Airport

Welcome to Panama! At your arrival at Tocumen International Airport (PTY) you need to go through the immigration procedures and pick up your luggage in order to clear customs. One of our representatives will be waiting you at the exit area, on the right-hand side, with a sign with your name on it. Enjoy your vacations in Panama!


Day 1

Welcome to Panama! |---

Welcome to beautiful Panama! Panama has so much to offer - an incredible mix of nature, history, tradition and culture. After customs arrive at the International Airport, one of our representatives will be waiting for you at the arrivals area to greet you and assist you with the transfer to your first night accommodation.
Transfer : Panama Airport (PTY) - Panama City - Distance: 25 km. - Road is in good condition.
Average travel time: 40 minutes
Destination Info: Panama City
Panama's iconic capital city and commercial center is like nowhere else in Central America, where big business and giant skyscrapers meet cobbled colonial streets and a mix of cultures formed by centuries of immigration and trade. It can seem chaotic at times, but there's plenty of fun to be had, especially around the vibrant UNESCO-listed Old Town - Casco Viejo - where many of the best bars, restaurants and hotels are found.

Home to the country's main airport and located on the Pacific Coast, within a couple of hours you could be lazing by the beach, exploring lush rainforests or sailing along the famous Panama Canal. Take a look at our hand-picked experiences to make to most of your time in this unique city.


---
American Trade Hotel
One of our favorite boutique luxury hotels in Panama City, the American Trade Hotel provides colonial elegance with plenty of modern comfort. Located in the heart of Casco Viejo, the UNESCO-listed Old Town, you'll find a huge array of cafes and bars dotted along the cobbled streets surrounding this historic building. On top of that, the hotel hosts one of the city's best restaurants, a rooftop swimming pool and panoramic views of the city.

Day 2

Pacific Escape|BLD

After breakfast, transfer from your hotel to the domestic airport to take your flight to David City in the Boquete region, an area known for its mountains and coffee culture. From here you will travel by ground transportation to Boca chica, then take a boat to your secluded ecolodge, the tropical island experience you've been dreaming of. During your stay you have numerous complimentary activities to make the most out of your time at this paradise.
Transfer : 08:00 - Panama City - Domestic Airport - Road is in good condition.

Plane : 10:00 - Panama Airport (PAC) - David City - Road is in very good condition.
Average travel time: 1:00h
Transfer : 11:00 - David City - Boca Chica - Distance: 64 km. - Road is in good condition.
Average travel time: 1:45h
Destination Info: Golfo de Chiriqui
The Gulf of Chiriquí is one of the highlights of Panama's Pacific Coast, encompassing 25 islands across both the Coiba National Park and Golfo de Chiriquí National Park. The area is home to a unique maritime ecosystem, with some 19 coral reefs in the surrounding waters, and snorkelers and divers can spot dolphins, sea turtles, starfish and even Humpback Wales throughout part of the year. The islands are home to a variety of animals and birds, as well as a good selection of luxury resorts for those looking to stay a while in this beautiful part of the world.

Alternatively, you can choose to visit Golfo de Chiriqui as a day trip, by boat or seaplane from mainland Panama.


---
Included Experiences
---
Chiriqui Gulf - An Insight of Isla Palenque
A nature paradise with a wide variety of activities for your entertainment and leisure time, hosting a rainforest and just surrounded by the pristine ocean. Choose some of the following experiences to enrich your stay at the Resort: Island hikes that take you to different spots with unique ecosystems, a visit to the Tide Pools, Lagoons & Mangroves, Jungle trails that hold the Secrets of the island, Punta Ballena hike, Coastal Rock hike, Rock Fishing, Kayak at Las Piñalitas in the northeastern coast, Kayak in the beach and mangroves, Kayak at Isla Palenquito, Stand-Up Paddle Board, Cooking classes, Rum Workshop, Panamanian Pastry classes and fun Dance classes.
---
Isla Palenque
The luxury Beachfront Villa Estate on the remote Isla Palenque is tucked between ancient trees and peeks out to the warm waters of Playa Primera, one of the more secluded beaches of the Chiriquí Archipelago. The six luxury rooms, spacious lounge and plunge pool blend effortlessly with the surroundings, creating an intimate rainforest and oceanfront setting where you can reconnect with nature. Available for private hire, this is the perfect tropical getaway for families and small groups.

Day 3

Isla Palenque Experience|BLD

Enjoy your free day at this marvelous place with so many activities to do, or simply relax at the beach.
---
Isla Palenque
Day 4

Time for Nature & Coffee|B--

Today, you take the boat to Boca Chica then a ground transfer to Boquete. Here you will stay at an elegant hotel just in the middle of impressive mountains and coffee farms. The rest of the day is at leisure.
Transfer : 09:00 - Boca Chica - Boquete - Distance: 101 km. - Road is in good condition.
Average travel time: 2:00h
Destination Info: Boquete
Boquete is a picturesque mountain town on the edge of the beautiful Barú Volcano National Park. With a cool climate and a welcoming small-town atmosphere, it makes a lovely break from the busy cities and the heat of the coast. The area is an outdoor-lover's dream, with a variety of nature trails to explore, as well as opportunities for climbing, rafting and canopy tours. The rich, volcanic soil around the town results in some wonderful local produce to enjoy, including one of the world's most sought-after coffees - Geisha.

---
Panamonte Inn & Spa
Dating back to 1914, this elegant country hotel in the highlands of Boquete has hosted guests such as Teddy Roosevelt, Charles Lindbergh and Richard Byrd during its long history. Surrounded by beautiful tropical gardens, and with an excellent restaurant and lounge, it makes for a relaxing haven for a few days in this peaceful part of Panama.

Day 5

Local culture|B--

In the morning, enjoy a coffee tour, one of the famous products in the area.
---
Included Experiences
---
09:00 Boquete - Boquete Coffee Experience
The Jaramillo region is home to some of the best-known organic coffee producers in Panama, exporting their products worldwide. During this tour you'll visit one of these farms (or 'fincas') learn about the whole process behind organic coffee production, including a little insight into the famous Geisha Coffee variety. Depending on the season you might be allowed to try your hand at roasting the beans, and of course you'll be able taste their delicious coffee straight from the source. You'll also learn how coffee production at the farm is helping the indigenous community, Ngobe Buglé, before being transferred back to your hotel.


---
Panamonte Inn & Spa
Day 6

Panama & Caribbean Taste|BLD

Transfer from Boquete to the domestic airport in David City, from where you head back to Panama City then by ground transportation to the historical Portobelo, here you take another boat ride through the calm Caribbean waters to your hotel. While you stay at El Otro Lado there are numerous activities that you can join, and some tours we have arranged for the next couple of days.
Transfer : 08:00 - Boquete - David City - Distance: 49 km. - Road is in good condition.
Average travel time: 1:30h
Plane : 11:30 - David (DAV) - Panama City (PAC)
Transfer : 12:30 - Domestic Airport - Panama City
Transfer : 13:30 - Panama City - Portobelo - Distance: 96 km. - Road is in good condition.
Average travel time: 1:40h
Destination Info: Portobelo
This Caribbean fishing village is so laid-back that it's hard to imagine it was once the most important Spanish port in Central America, with huge quantities of South American gold and Asian treasure passing through the fortresses here. Several of these UNESCO-listed colonial fortresses still stand in the village, but nowadays you'll find a relaxed Caribbean atmosphere filled with music and art.

Nearby, attractive beaches can be reached by boat, and divers and snorkelers will find some great underwater spots to explore off the coast.

---
Included Experiences
---
Portobelo - El Otro Lado Experience
El Otro Lado provides many options for you to enjoy your time at the property, as diverse trails, kayak tours in the bay and mangroves, fishing tours in pedal boats, visiting the beaches, snorkeling and or a fun stand up paddle experience. Each day during your stay, you are able to choose one wellness activity as a mindfulness walk, a hike to San Fernando, Yoga, Private Lake Hike, or a Tropical Functional Training; Also, one onsite adventure or culture activity as coffee tasting, water sports, or hiking. In addition, you can be as well part of the night program by participating in the movie or game night, or delighting with a live performance or joining the "Creators Night".
---
El Otro Lado Private Retreat
Overlooking the stunning Portobelo Bay, this family-owned luxury resort blends seamlessly into its natural surroundings. With just a handful of colorful private villas, decorated using local artwork which celebrates the Congo culture of the area, you'll be able to stay in secluded comfort at El Otro Lado. The resort is also available for private hire, if you have a larger group. Tasty Caribbean cuisine is served on-site, and there are opportunities for hiking, watersports and spa treatments too.

Day 7

Marvelous Surroundings|BLD

In the morning, enjoy a visit to the historical town of Portobelo and learn about its history. In the afternoon, you can join a river journey with some Ceviche tasting and a close encounter with the nature.
---
Included Experiences
---
09:00 Portobelo - Historic Walk
Take a look back into Portobelo's fascinating past, filled with stories of pirates and Spanish conquistadors. You'll visit the villages most important sites with a knowledgeable local guide, including UNESCO-listed colonial fortresses, the Casa de Aduanas and the Black Christ church.
---
14:00 Portobelo - River Journey in La Farahona by El Otro Lado
Delight with an excursion across the river during sunset in the famous boat La Farahona, it will be possible to admire diverse landscapes and wildlife. The tour includes a Ceviche tasting menu, a famous dish throughout Latin America.


---
El Otro Lado Private Retreat
Day 8

Leisure and Traditions|BLD

This morning you have some leisure time to choose an activity of your preference. In the afternoon you can enjoy and participate in some of the traditional Panamanian dances in a cultural presentation.
---
Included Experiences
---
14:00 Portobelo - Traditional Dance Performance
Music and dance are a huge part of Portobelo's culture, and this performance gives a taste of three of the most famous traditional dances from the area. Each dance represents the history of the people here - Congo dates back to the time of colonial slavery, while Zaracunde tells the story of the slaves who ran away into the mountains, and Los Diablos represents the achievement of freedom.

The performance lasts around one hour, with local instruments used, and the opportunity to join in if you're feeling brave!
---
El Otro Lado Private Retreat
Day 9

Panama City|B--

Transfer back to Panama City for a full day tour. Start by visiting the Panama Canal visitor's center located in Miraflores Locks, then continue to Casco Antiguo.
Transfer : 11:00 - Portobelo - Panama City - Distance: 97 km. - Road is in good condition.
Average travel time: 2:00h
---
Included Experiences
---
13:00 Panama - Miraflores Locks & Casco Viejo
This morning's tour will show you the sights, history and culture of Panama City, as well as paying a visit to the famous Panama Canal. You'll be picked up from your hotel and taken to Miraflores Locks, where you'll see giant ships transiting the canal and learn the about the incredible story its construction. The tour continues to the old city compound - Casco Antiguo - taking in the impressive Biodiversity Museum, San José Church and the bustling folk market along the way. You'll finish at the French Plaza, from where you'll have a panoramic view of the modern city center and the ships waiting their turn to transit the canal. A return transfer to your hotel is included.
---
American Trade Hotel
Day 10

Transfer to the International Airport|B--

This morning, you will be transferred to the airport for your international flight home. Thank you for traveling with us!
Transfer : Panama City - Panama airport (PTY) - Distance: 25 km. - Road is in good condition.
Average travel time: 40 minutes
Drop off point: Panamá Tocumen International Airport

Our team brings you to Tocumen International Airport (PTY) for your departure flight. We trust you had an amazing time at Panama!
Sustainability
CO2 compensation
In this reservations you traveled 457 km approximately. This produces 44.65 kg de C02. It takes 2.94 trees to compensate for the environment impact.
To know more about our sustainable policy, we invite you to visit our website: www.vapues.com
PRICING INFORMATION
Minimum: 2 pax
Valid for 2021 except Easter Week, Chistmas & New Years period, besides other local festivities.
Net rate per person: US$4,730.00
Note: This is just a quotation and suggested program. If at time of booking quoted hotels are not available, similar hotels will be booked and price is subject to change. All itineraries are subject to change, due to weather and other conditions. All times indicated are approximate, and are also subject to change.
Included
Meet & greet
Information package with maps and a detailed itinerary
Lodgement at hotels as mentioned or similar
Breakfast
Lunch on indicated days
Dinner on indicated days
Flight Panama Airport (PAC) - David City
Flight David (DAV) - Panama City (PAC)
Transfers
Tours mentioned with an English speaking guide + entrance fees.
VAT / taxes
Not Included
International flights
Meals other than mentioned
Migration fees
Personal expenses
Optional tours/activities
Tips nor porters
Price subject to changes due to accommodations operating in a buy-out basis.
---
Contact details Vapues Tours
Restaurante Don Parrillón 1c. Este,
1/2 c. norte, casa # 45
Managua, Nicaragua
Tel: (+505) 2270-1936
Emergency number 24/7
Tel : (+505) 7872 0076